Dr. Restituto Tibayan, MD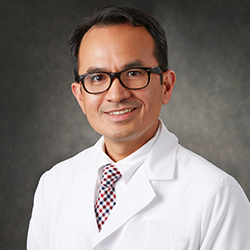 Medical Oncologist
Dr. Restituto Tibayan received his medical degree from the University of Santo Tomas Hospital in the Philippines. He completed two internal medicine residencies – one at the University of Santo Tomas Hospital and the other at Seton Hall University in New Jersey. He completed a fellowship in geriatrics at the University of Pennsylvania and a fellowship in medical oncology/hematology at Seton Hall University. Dr. Tibayan is board certified by the American Board of Internal Medicine in Hematology and Medical Oncology as well as Internal Medicine.
Dr. Tibayan specializes in the diagnosis, treatment and management of all cancer types, blood disorders, leukemias and lymphomas. Some of his specialty practices include chemotherapy, intrathecal chemotherapy, and bone marrow biopsy and aspiration.
Along with being published in numerous medical journals, Dr. Tibayan is a member of the American Society of Hematology, the American Society of Clinical Oncology, the American Geriatric Society and the American College of Physicians.